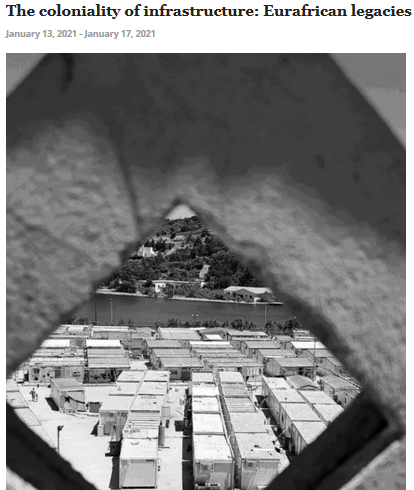 When Eurafrica emerged in the 1920s as an intellectual and political project to connect Europe with Africa, its goal was to ensure European colonial dominance in a changing world.
As Africa enters a new age of development increasingly dominated by China, and the EU is in fundamental crisis, is it still possible to speak of a Eurafrican present? From the physical imprint of cities and the configuration of intercontinental airline routes, infrastructure testifies to the enduring legacies of Eurafrica. Infrastructure shapes territories and governs the mobilities within and across them, but also serves to immobilize and externalize bodies and things. The European infrastructure of the Mediterranean border regime, in which African migrants are systematically being detained or left to die, recalls colonial-era policies that valued life and dictated death along racial lines. At the same time, European aid focused on infrastructural development in Africa is increasingly targeted to counter such unwanted migration - without touching the global extraction economies that have roots in European colonial rule and continue to shape African cities and territories today. Because of these specters of Eurafrica, the EU seems structurally incapable to come to terms with its colonial past.
This conference proposes to explore historical continuities in Africa's relationship with Europe through the lens of infrastructure.
Event description based directly on source announcement.