Adventures in city data
An ethnographic story (a GCRO Occasional Paper)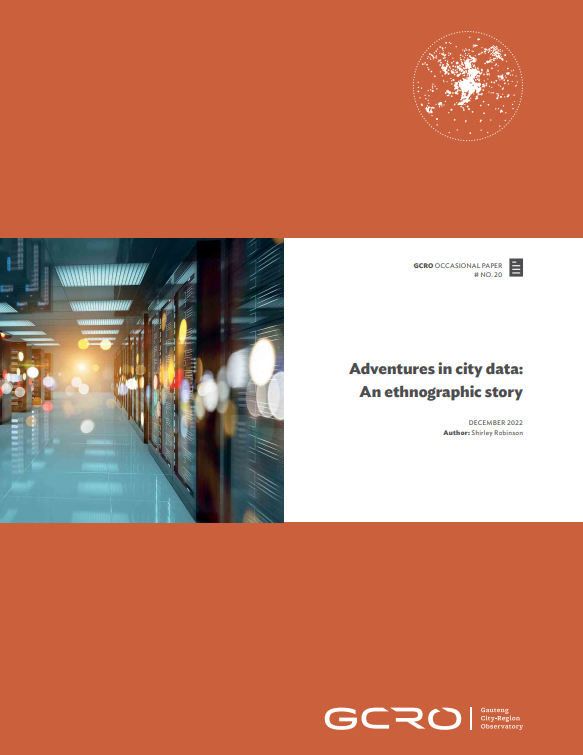 01 December 2022
GCRO
English
Working paper
South Africa
This GCRO Occasional Paper presents an ethnographic account of a decade-long journey in city economic data collation by the author who, as a long-term technical advisor to the National Treasury's Government Technical Advisory Centre (GTAC), led the work on the city economic data programme in support of the first phase of the National Treasury's Cities Support Programme (CSP).
The paper recounts the collaborations of the CSP with Statistics South Africa, the South African Revenue Service (SARS) and the Unemployment Insurance Fund (UIF), to collate anonymised and geocoded data that would enable an alternative mapping of the space economies of South African cities. Despite many practical and governance constraints, the collaborations ultimately bore fruit in the establishment of a secure administrative data centre at the National Treasury. This in turn led to the milestone publication of the 2021 City Spatial Economic Data Reports.
This ethnographic account concludes by reflecting on possibilities for further improving the integrity of this vital city spatial economic data resource, and to enhance its use in credible, evidence-based urban analysis. These conclusions highlight some institutional challenges to be resolved to enable future steps to improve the data, as well as some residual uncertainties in the data itself, given how it is collected at source. Solving these governance and data puzzles may further enhance the incredible potential that such a rich data resource holds for evidence-based policy aimed at creating a more just and equal society in South Africa.
Abstract based directly on source.