FAQ
What you need to know to improve your Urban Knowledge Exchange experience.
Next steps after first signing up as a Contributor
After completing the short sign-up form for the first time, you should have receive an automated email to say that your registration had been successful and to please set up a password.

The next step is to fill out a little more about yourself on your profile. This will help other visitors and site users to find your professional profile which is also linked to your publications.
To update your profile
1. Log in with your new password.
2. Just below the main menu on the top right of the screen you'll see a new ADD/EDIT menu.
3. Click on ADD/EDIT and the menu will open. This is where you can edit your profile and add content.

4. Once you have filled out additional information about yourself, you can also elect to publicly display your profile on the contributor listing page. If that's ok please untick the 'Hide my profile' box towards the bottom of the page. This is important if you want to link your uploads to your and your organisation's profiles.

5. Once completed, save the updated information.

6. You can now also add other types of content using the ADD/EDIT menu. These include articles, upcoming events, organisation details and discussion forums.
All content is moderated before being published on the website.
You are also welcome to sign up for email alerts if you have not already done so. This is an additional, free service to the many functions you can access as a signed-up contributor. Look for this button at the top right of the home screen.
Please contact us if you have any issues.
How can I sign up to email alerts?
• Click on the "Sign up to Alerts" button at the top of any page
• Select the sectors that you are most interested in receiving new content alerts about
• Indicate whether you would like weekly or monthly updates
Our alert emails are sent to your preferred email address every week or month depending on what you indicated on your alert sign up. These emails provide updates on the latest article uploads and upcoming events related to your sectoral interests. If you have subscribed to email alerts and no longer wish to receive these emails, please follow the unsubscribe link in the alerts email.
Do I need to register?
You do not need to register as a contributor in order to enter our website and access resources. You may access our content as a visitor on the platform.
However, in order to contribute and comment on content, and to create a personal or organisation profile you will need to register. Registration is free!
See how to sign up to create a profile. When signing up for the first time you do not have to submit content straight away.
Who can join the platform?
Individuals (academics, NGO workers, consultants, members of organisations etc.) may create professional profiles in the form of content contributors and upload content to the platform.

Additionally, organisations (government agencies, academic institutions, research organisations, etc.) may register organisation profiles in order to directly upload content associated with the companies.
What kind of content can I upload?

Once you have registered as a content contributor you will be able to add/edit various types of content. As seen above this includes resources (articles), events and forums.

Scope of content
uKESA focuses on issues to do with urban development, the built environment, and human settlements, and the governance thereof. We have created a framework of sectors and themes that describe this scope in our browse library categories.
How do I sign up as a Contributor?
To become a contributor, please first ensure that you have a valid professional profile on an external website. This may be LinkedIn, ResearchGate, Academia, or a company/institution/university staff page. This is part of an initial screening stage for content contributors to ensure accountability of users and quality of content on the platform.
You can either
• Select "Register" at the bottom of any page
• Click on the "Log In" button, then "Register"



1) Fill out the short-registration form which requires your name, email, organisation and professional profiles from other websites.
2) Once accepted, an uKESA administrator will then send you an email with a profile activation link.
3) You may then choose to update your profile with more detail (this is not compulsory but may help other users to discover your work and profile).

How do I register my organisation?
When you are signing up as a content contributor you may select the primary organisation that you are affiliated with. If the organisation does not appear on the drop-down list it means that no one has created an organisation profile yet – but you can! Select "No/Other organisation" and you will be given the option to register your organisation once your personal profile has been approved.
When filling out a profile for an organisation, remember that a logo that is close to a round or square shape displays better on the various pages where organisations are featured.
How do I get my organisation featured?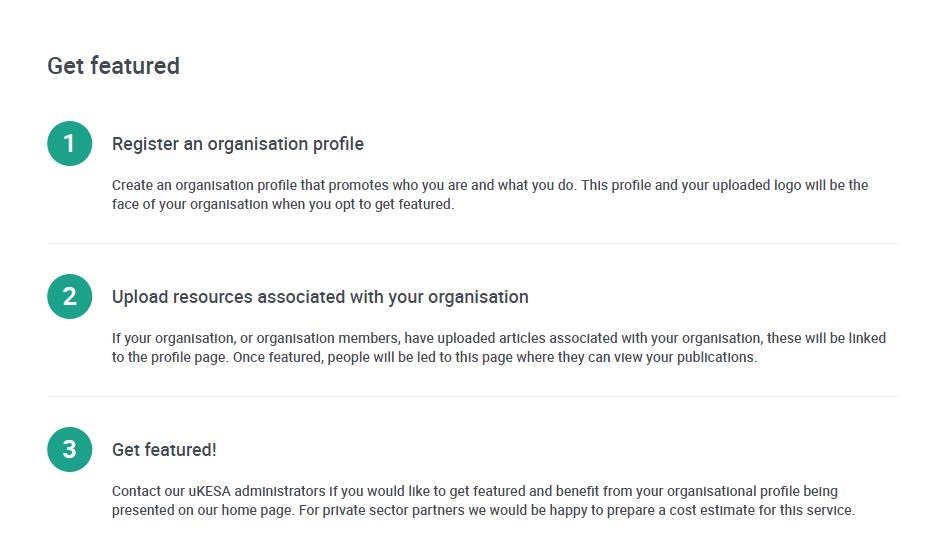 I am affiliated with multiple organisations, how should I manage my account?
When you upload content (like an article or an upcoming event), that content is automatically linked to (or associated with) your primary organisation. Therefore, we would suggest that you decide which affiliation applies best to most of your uploaded content, and ensure that your personal profile lists that organisation as your primary one. Typically a person may work for University A but also be a member of Professional Institute C, and so in your personal contributor profile, you should give University A as your primary organisation.
If you upload an article or an event that is associated both with your primary organisation and another organisation, then there are additional fields where these can be listed, or linked to that second organisation if it is registered on the platform.
For example, if my personal profile lists University A as my main organisation, but I write something for NGO B, if you have permission to share that report it will be linked to University A (as one of that organisation's resources in the directory of partners) but there will also be a link to NGO B when people view the main page for that resource.
How do I upload an article?

Before uploading an article, please ensure that you have the following:
- A cover picture for the document (this may be the 1st page if no cover photo is available)
- The document file or a URL/permalink to the resource
- The relevant publication information required for sharing online
The types of content that we do accept include:

• Manual/ guideline
• Report
• Technical paper
• Working paper
• Research/ academic paper
• Evidence-based opinion pieces/ commentary
• Book/ book chapter
• Conference paper
• Dissertation/ thesis
• Government document
• Policy brief
• Legislation/ regulations
• Media article
• Newsletter
• Presentation
• Press release
• Review
• Speech
• Learning material
• Events information
There are certain types of document that do not fall under our scope including:

• Pure opinion pieces with no referencing or indication of evidence-based research
• Any document that does not comply with our Terms of Use policy regarding appropriateness
• Thematic content outside of the stated scope of the platform
How do I comment on an article?
If a contributor has given permission for people to comment on their article, you will see a 'Comment' button at the base of that article.
To make a comment, firstly check whether you are logged in. If you do not have a profile yet, then register as a contributor.
Once logged in, press the 'Comment' button and write your comment. Bear in mind the web site's Terms of Use that cover what is appropriate content.
When you submit your comment it will be sent to a Content Approver for moderation. Check back later to see your comment displayed below the article.
How do I upload an event?

Content contributors may add/edit events when logged into their accounts.

All of the events that you have submitted and are waiting for approval, incomplete/draft event forms, and approved events that you have uploaded can be viewed under the events panel.

Please ensure that the event is within the scope of the platform and contributes to an element of knowledge production and dissemination. A link to the conference page is required for legitimacy purposes – this may be a conference website link or Facebook event, etc.
How do I upload a discussion forum?

Content contributors may add/edit forums when logged into their accounts.
Why can't I add a portal?
The portal list is controlled by our administrative team to ensure that the most applicable external links are shared with our users. This control means that we will only include links that we have tested for organisations/ pages that we are familiar with.
If you have any portal link suggestions, please feel free to email us at ukesa@csir.co.za.
What does uploading/sharing a document onto the site mean?
When uploading a document resource (article) onto the site there are two options, either you can provide a URL link to the external document source (e.g. a publisher's site), or you can upload the document file onto the platform. In the second scenario, you as the content contributor must have authorisation to share the document.
When choosing to upload a document onto the platform, you reserve all rights to the content. uKESA will then assist with the metadata associated with the document (the keywords, sectors, themes, and abstract). Due to the time and effort put into this resource processing, this metadata is then the property of uKESA.