Climate change and disaster preparedness issues in Eastern Cape and Kwazulu-Natal, South Africa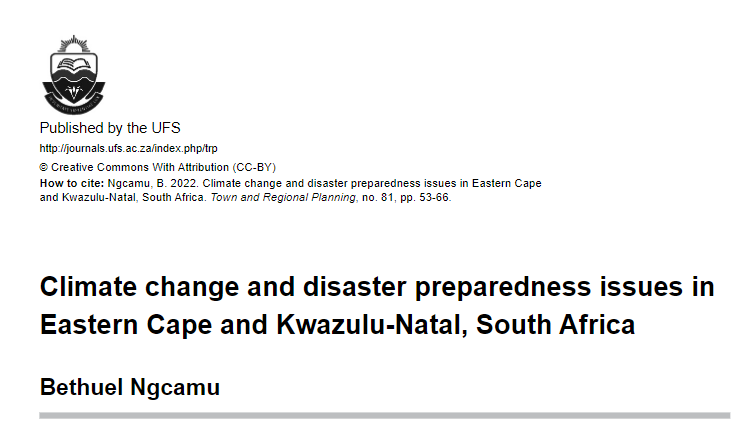 15 December 2022
University of Free State
English
Review
South Africa
This article sought to review the literature on the effectiveness of disaster preparedness plans in two provinces that were struck by climate-induced disasters in South Africa in 2022. Making use of a qualitative desktop study, the effects of urbanisation and infrastructure development on the deadly disasters of April 2022 were examined, using thematic analyses. The review reveals a complex combination of the causes of disaster in both KwaZulu-Natal and the Eastern Cape, which included unplanned urbanisation; ineffective warning systems; inadequate infrastructure, and houses being built on floodplains, in wetland, and in coastal areas.
The lack of climate knowledge among government officials and communities prone to climate-induced disasters was considered to have led to the severe devastating effects of the April 2022 disasters. These challenges were compounded by the failure of municipal officials to harness learnings from the rich indigenous knowledge systems of the vulnerable groups and to reverse the impacts of the disasters. The article summarises the causes, challenges, impacts, and solutions that can be considered to plan for disaster preparedness.
Abstract based directly on source.