Informal Settlements Upgrading Toolkit
Preparing to scale up informal settlement upgrading in South Africa using a city-wide approach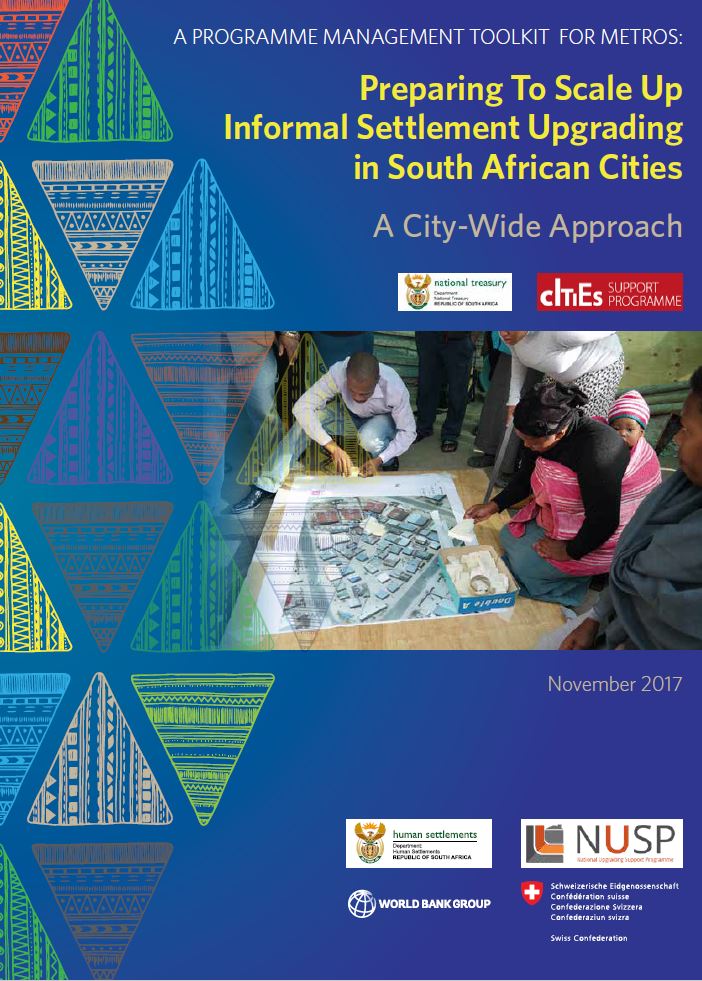 01 November 2017
City Support Programme
English
Guideline
South Africa
The purpose of this Informal Settlement Upgrading Toolkit is to assist metros in South Africa to overcome barriers which prevent a scaled-up, city-wide upgrading approach which is incremental, in-situ, participative and partnership-orientated. It is recognised that such an approach, whilst having been policy in South Africa since at least 2008, has yet to be successfully implemented at scale.
The Toolkit's focus is at the overall programme level since there are already various project-level upgrading tools and resources available. This initiative forms an important part of strengthening the service delivery, management capacity and systems of South African cities. Whilst it was developed for metros, the Toolkit content will be equally useful to other municipalities which have significant informal settlement populations.

This Toolkit forms part of the knowledge resources provided by the National Upgrading Support Programme (NUSP) through its various strategic partners, which include the Cities Support Programme (CSP) of the National Treasury. The objective is, through collaboration, to further realise the objectives of the national Upgrading of Informal Settlements Programme (UISP).
It forms part of the broader CSP work on a framework for scaling up informal settlement upgrading which is being implemented in partnership with the National Department of Human Settlements (NDHS) and NUSP.

For more information on the Upgrading Toolkit, refer to relevant tools and resources in the Toolkit Resource Library - Dropbox.
See here for a wider array of tools from the Cities Support Programme.