Safeguarding Rights of Mining Communities in South Africa
An analysis of the legal mechanisms in force with particular focus on Community Development Agreements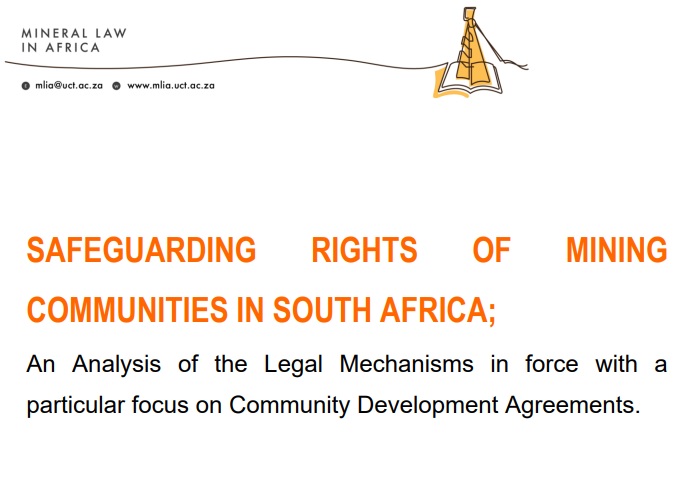 The benefits of mineral resources must be distributed equitably and sustainably among all mining stakeholders including mining communities. Sustainable mining practices extend to the promotion of socio-economic development of local communities affected by mining activities. Mining communities often bear the brunt of the negative effects of mining, which include environmental degradation and interruption of social and cultural norms. In recent times, mining communities have increasingly raised concerns and complaints in opposition to the commencement of mining projects or ongoing mining projects where mining companies have failed to fulfil their end of the bargain. For example, in South Africa, the unrest leading to the unfortunate events at Marikana in 2012 led to significant scrutiny on the role of mining companies in the socio-economic development of mine labourers and mining communities. In particular, the effectiveness of Social and Labour Plans was brought under scrutiny. Additionally, the Constitutional Court has recently adjudicated cases relating to the relationship between mining companies and mining communities whereby the need for meaningful consultation with mining communities before the grant of a mining license was emphasized.
This dissertation analyses whether the legal framework in South Africa adequately safeguards the rights of mining communities. Further, it considers whether the mechanisms put in place in the mining legal and regulatory framework, for example, the requirement of consultation with interested and affected parties, sufficiently protect mining communities. A proposal is made for the incorporation of Community Development Agreements into the legal framework to safeguard mining community rights for the following reasons. First, the agreement provides legally binding obligations for both parties. Secondly, it serves as a powerful mechanism in sharing the benefits of mining. Thirdly, it provides a clear structure for the mitigation of some of the negative impacts of mining through socio-economic development of mining communities.

This resource is part of the Mining Towns Collection kindly sponsored by the Municipal Capability and Partnership Programme. Abstract based on source.