The May Gathering report
Changemaker Towns Network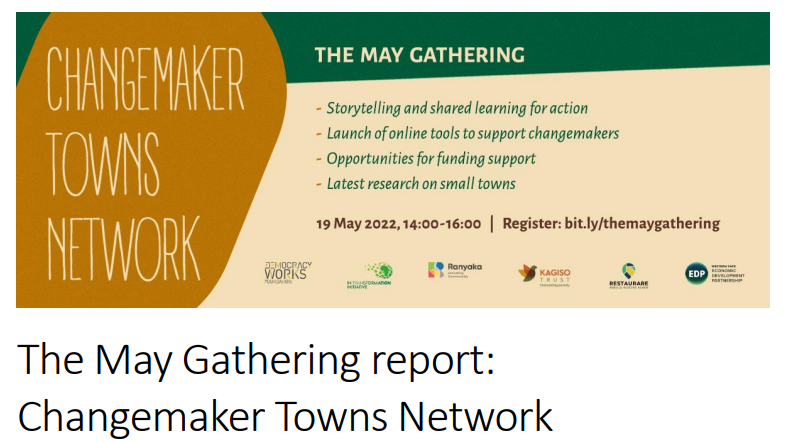 19 May 2022
Towns Action Network
English
Report
South Africa
The 'May Gathering' for the Changemaker Towns Network was convened by the Western Cape Economic Development Partnership (EDP), In Transformation Initiative, Citeplan/ Restaurare, Democracy Works, Ranyaka and Kagiso Trust. A diverse group of over 80 people from across South Africa joined, including changemakers from local partnerships, CEO's, researchers, mayors, and residents.
Highlights included:
'Popcorn' updates by changemakers and local partnerships from Cederberg, Paarl, Oudtshoorn, Mount Frere and Accountability Lab
Launch of support tools – Interactive Map, Offers and Needs catalogue and research repository (uKESA)
Guidance on enabling township economies of small towns, from a study of Rammulotsi (Viljoenskroon) in the northern Free State.
Small Towns Regeneration Strategy process and updates on the strategy from the Department of Cooperative Governance (CoGTA)
Read the May Gathering report here.
Abstract based directly on source.