Breaking with prejudices
Citizenship, innovation, and informalities in urban Africa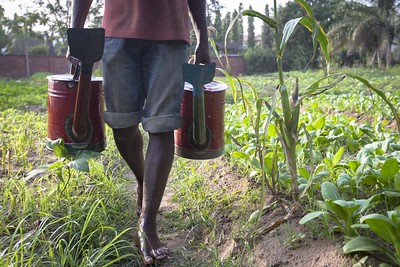 19 April 2022
Land Portal
English
Blog
Zambia, Tanzania, South Africa, Kenya, Democratic Republic of the Congo, Cote D'Ivoire (Ivory Coast)
In the wake of increasing media attention to climate change impacts and rising sea levels, African metropoles, such as Lagos, have slowly moved into focus. That said, urban African spaces have continually faced prejudices since colonial times, portrayed as "exotic colonial" places or more recently as "Afropessimist" cities with images of poverty, slums, corruption, and violence. Yet, this does not reflect the complex realities and challenges of urban centres in Sub-Saharan Africa which are sprawling, undergoing constant change, and whose residents face everyday precarious situations but also many opportunities for entrepreneurship.
Considering this, four recent articles linked to this blog, take a different view on urban Africa including innovative ways to secure tenure in cities, overcome obstacles to urban agriculture, and gain insights into the agency and opportunities of urban refugees. The articles are:

Securing Tenure in African Cities: Learnings from five Small-Scale, Incremental Innovations Led by Local NGOs and Social Entrepreneurs

It is a selection particularly helpful to those working on and researching urban tenure and development. The literature selection draws on a wide range of cases from South Africa, Kenya, Zambia, Ivory Coast, Tanzania, and the Democratic Republic of Congo. These insights may hopefully contribute to a more diverse representation of urban spaces in Sub-Saharan Africa in the future.
Abstract based on source.