Governance, Management and Implementation Challenges of Local Economic Development (LED) in Khayelitsha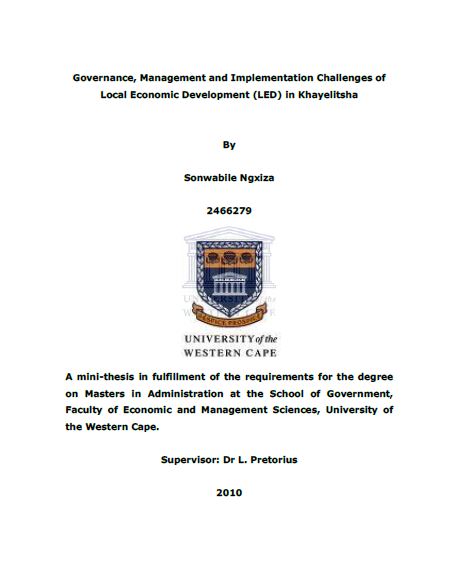 There is a growing consensus globally about the significance of developing local and regional economies in order to create sustainable livelihood for local communities. The policy discourse in South Africa and elsewhere as well as the immense body of literature on local economic development bears testimony to this reality (Nel 1994, Tomlinson 1994, Rogerson 2003, World Bank 2002, Madell 2002, Cashdan, 2002). The Constitution of the Republic of South Africa (Act 108 of 1996) and the Local Government: Municipal Systems Act (Act 36 of 2000) enshrine the role of municipalities in enhancing the economic growth and development, and harnessing the social wellbeing of the communities 'through creation of employment opportunities and redistribution of resources'. Importantly, this legislative framework must be accompanied by, on the one hand proper structures and political will, and on the other hand provision of resources and institutional capacity for realization of the long term objectives of Local Economic Development (LED). In order to be successfully mainstreamed and implemented the LED must be embodied within the legally prescribed Integrated Development Plans. In addition, the LED strategy must be incorporated within the Provincial Growth and Development Strategies (PGDS).
In Khayelitsha the prevailing interlocking challenges that necessitate an integrated and holistic intervention include but not limited to poverty, unemployment, inadequate infrastructure and lack of economic base. There is a plethora of interventions to these problems that are uncoordinated, thus it becomes imperative to ensure coordination and integration to build synergy and ensure resource mobilization for these efforts to yield fruit. Local Economic Development should not be viewed as just a project but must be understood as an overarching strategy with a thorough implementation plan and specific targets as well as review mechanisms. All different spheres of government, organs of civil society and business have a tremendous role to play in pursuit of sustainable economic growth and development. In Khayelitsha there are emerging trends of bulk infrastructure spending and community led partnership that seek to unlock the economic potential however this progress has thus far been limited to retail development with no productive industrial development.