KZN Flood Relief - How can you help? About the KZN Flood Relief Resource Page
The recent floods in the Kwa-Zulu Natal Province have caused severe devastation both to the economy and the livelihoods of communities in the area. Many are left stranded without clean drinking water, food, clothes, security, and shelter. In light of these difficult times in the province, many organisations are reaching out to lend a helping hand on those stricken by the disaster. This resource page is a collation of different initiatives where you can support such communities.
1. Gift of the Givers - KZN Flood Relief
Gift of the Givers is responding to the crisis arising from the recent KZN floods. Amongst other activities, the organisation is busy with on-site assessments identifying areas of severe damage and to avoiding duplication. Gift of the Givers will assist as best as possible. You may contribute to Gift of the Givers to Make a Difference.
2. Habitat for Humanity KZN Flood Appeal -Support relief and recovery efforts for KZN families impacted by floods
The loss of homes as a result of the recent devastating floods left hundreds of KZN families and communities at their most vulnerable, with many lives lost in the process. Habitat for Humanity SA joins hands with key stakeholders to relieve the plight of those impacted by this crisis. We will focus on the most critical and immediate necessities that will help restore dignity during the short term whilst looking at ways of building back better in the long term. Habitat for Humanity SA in partnership with key stakeholders works to rebuild communities by moving them from ruin to recovery.
3. Abahlali baseMjondolo
The floods have affected the poorest of the poor the most!
Every disaster in Durban – from the hard lockdown to the riots, fires and floods – hits the poor the hardest. Natural disasters become entwined with political disasters, often resulting in devastation for the poor. Thousands of our members have lost their homes in the floods in Durban, and all their possessions. Many are missing and some are confirmed to have passed on. We have been contacted by many people asking if they can donate to support our members in this time of crisis. Anyone who wishes to contribute can do so via the organisation's website or Facebook page.
4. MOWCS Relief Response to the KZN Floods Disaster
Meals On Wheels Community Services (MOWCS) South Africa CEO has announced that the non-profit organisation is ready to hit the ground running with relief to KwaZulu-Natal communities affected by heavy rains that resulted in destruction of infrastructure including homes.
For more information download the PDF.
5. Domino Foundation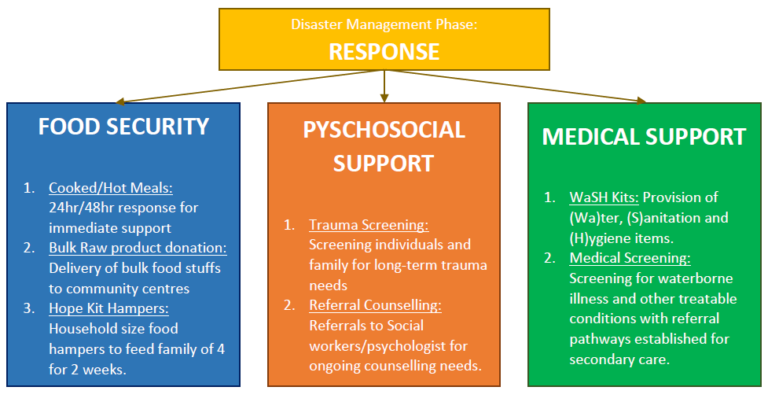 The Domino Foundation Disaster Response Unit, in collaborative efforts and activities with the KZN Disaster Response Team, are once again the first responders on the ground, attending to direct response relief efforts in Kwa-Zulu Natal, due to flooding and devastating damage caused by the recent torrential rains. If you would like to partner financially, please use the donation options on the organisation's website. Additionally, if you would like to donate any products, the Foundation are in need of non-perishables – tinned food, maize meals, dried beans, 2L oil and 5kg rice please. These can be dropped off at the Domino Foundation office located at 37 Mackeurtan Avenue, Durban North.
6. Charlize Theron Africa Outreach Project (CTAOP) -Urgent Relief Efforts
Earlier this week, the most devastating floods on record struck the KwaZulu-Natal (KZN) province in South Africa, killing more than 400 people and displacing thousands. At CTAOP, our most critical role entails supporting our Partners in whatever challenges they face – and right now organisations in KZN are reeling, trying to support their communities however they can, as affected families desperately need food, water, and shelter. Our community wanted to help KZN, so CTAOP has created a Facebook fundraiser as an easy way to give. 100% of funds will go directly to this effort.
"There is always a place for you to lend a hand".