The availability of infrastructure in townships
Is there hope for township businesses?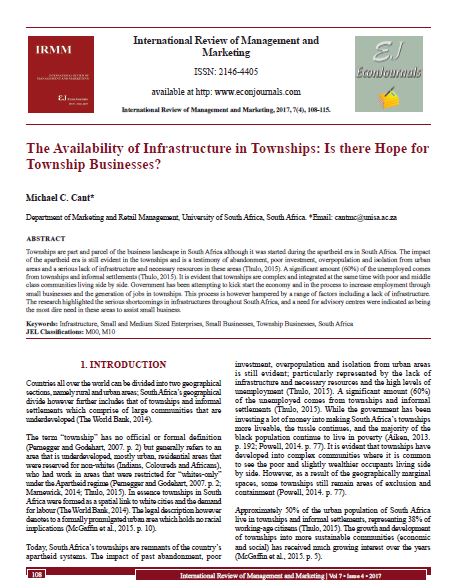 Townships are part and parcel of the business landscape in South Africa. The impact of the apartheid era is still evident in the townships and is a testimony of abandonment, poor investment, overpopulation and isolation from urban areas, and a serious lack of infrastructure and necessary resources in these areas (Thulo, 2015). A significant proportion (60%) of the unemployed come from townships and informal settlements (Thulo, 2015). It is evident that townships are complex, with poor and middle class communities living side by side. Government has been attempting to kick start the economy and in the process to increase employment through small businesses and the generation of jobs in townships. This process is, however, hampered by a range of factors including lack of infrastructure. The research highlighted the serious shortcomings in infrastructure throughout South Africa. Advisory centres to assist small businesses were suggested.