The Impact of Jabulani Shopping Mall on Small Township Businesses and Their Response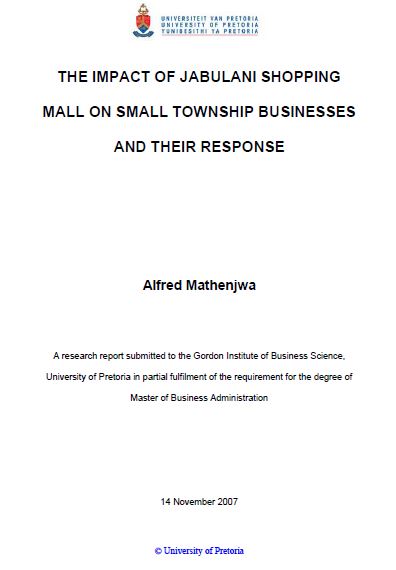 The advent of a shopping mall in the Soweto township has an impact on the small township businesses. The objective of this research was to explore the impact of Jabulani shopping mall on the spaza shops and general dealers and assess their responses to competitive pressures from large retailers in the shopping mall.
20 township small businesses (10 spaza shops and 10 general dealers) were interviewed face to face at their business premises. A semi-structured interview guideline was used. Each business provided data on all the questions. The data was then mapped to research questions. Various descriptive statistical techniques were used to collate and analyse the data.
A model-based, on the findings, was designed for the purpose of summarising the findings. The model (Figure 6) illustrates the key findings relating to the impact experienced by spaza shops and general dealers and their response to competition. The extent of involvement by each business type in competitive strategies is illustrated in the model. Although the model only highlights the key findings, this research identified other findings that improve the understanding of the responses undertaken by small township businesses to differentiate their
value proposition from that of large retailers at the shopping malls.
Abstract based directly on the original source