The perceptual impact of enterprise development on mining communities in South Africa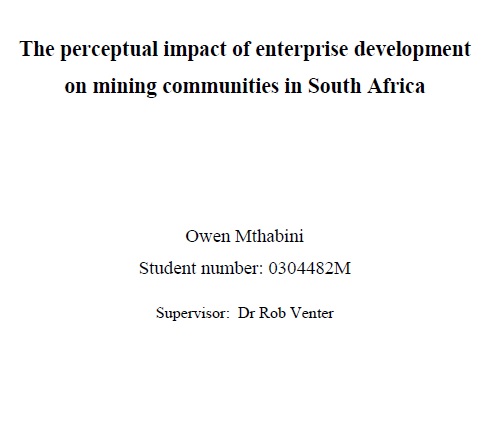 The Broad-Based Black Economic Empowerment's (BBBEE's) enterprise development practice is one of the tools employed by the South African government in an attempt to redress the country's past economic injustices that are a result of apartheid's discriminatory economic segregationist policies. This research studied the perceptual impact of BBBEE's enterprise development in mining communities, by focusing on black entrepreneurs and the support they receive from mining companies – or lack thereof – according to the BBBEE's codes of good conduct.

The support that mining companies provide to mining community entrepreneurs could have come in the form of, inter alia, business funding, business incubation, granting guarantees for business loans and business coaching. The study took a positivist approach with data collected using a questionnaire. The research findings indicate that mining community entrepreneurs do not feel that mining companies provide sufficient business support thus limiting the effectiveness of the policy in redressing South Africa's past economic injustices by supporting black entrepreneurs.

This resource is part of the Mining Towns Collection kindly sponsored by the Municipal Capability and Partnership Programme. Abstract based on source.