The State of the Expanded Public Works Programme in South African Cities
Annual Report 2019-2020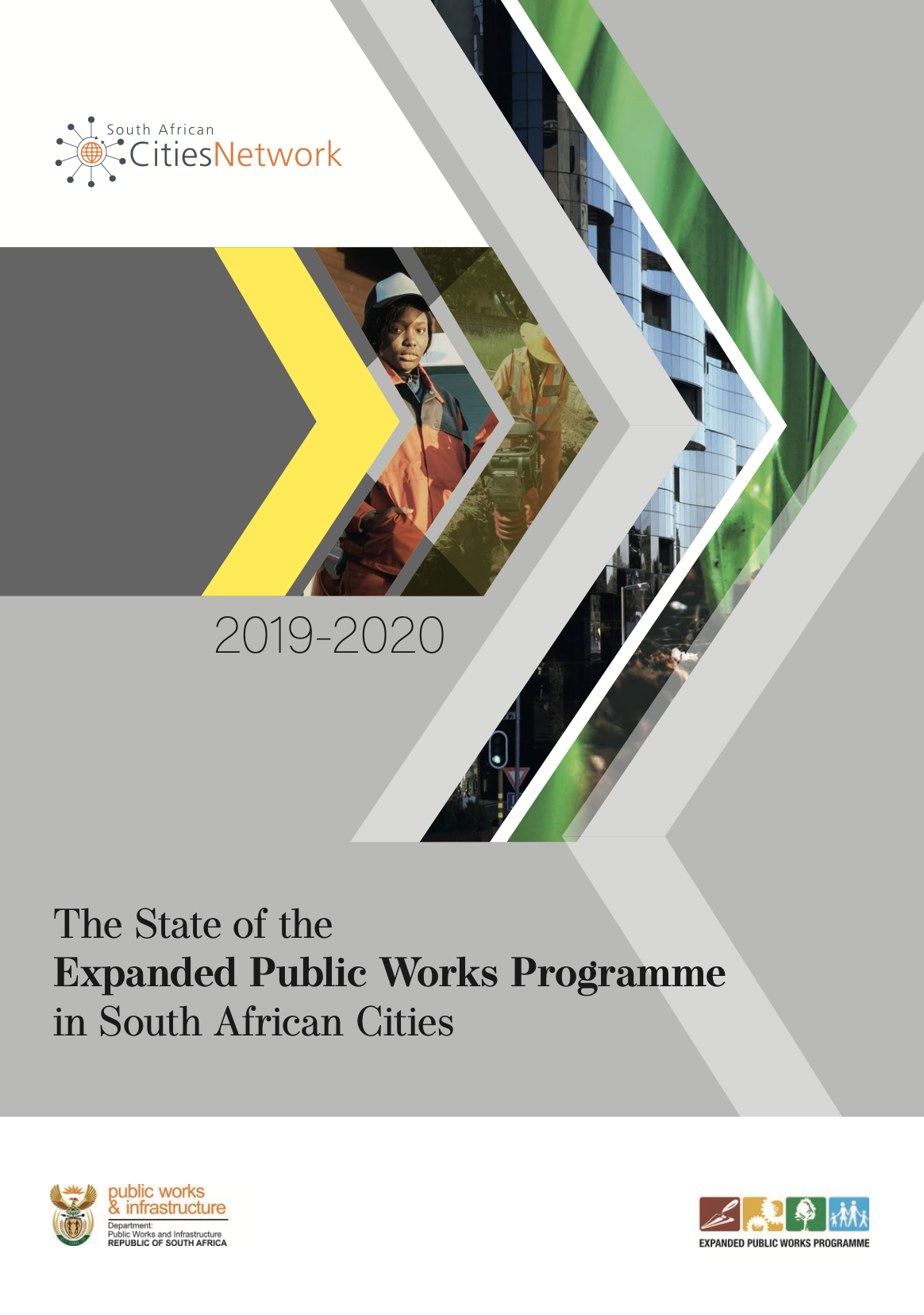 30 June 2021
Ignatius Ariyo, Nomfundo Faith Dlamini
English
Report
South Africa
The success of the Expanded Public Works Programme (EPWP) in South African cities, and the innovation and learning that have emerged through the EPWP-SACN Reference Group (RG), have been captured in 15 'State of the Expanded Public Works Programme in South African Cities' reports covering the period from 2004 to 2019. This publication, for the 2019/2020 period running from 1 April 2019 to 31 March 2020, constitutes the 16th annual report.

The aim of this report is to highlight and analyse the progress and implementation of the EPWP by the SACN Cities in the 2019/20 year, as the EPWP transitions into Phase IV; and to further examine the integrated analysis of the programme, looking at future directions and trends. The eight-member cities of the SACN include the cities of Johannesburg, Tshwane, and Ekurhuleni; the metropolitan municipalities of Buffalo City and Mangaung; and the municipalities of eThekwini, Msunduzi and Nelson Mandela Bay. The City of Cape Town, although not currently a SACN member city, has been included in this report for comparative analysis purposes.

The EPWP was evaluated during the compilation of this report and several key observations were made. Firstly, it is evident that cities that have been more successful at implementing the EPWP have managed not only to institutionalise the programme into their existing municipal structures, processes and systems but also to gain widespread buy-in. Secondly, reporting has been highlighted as a challenge for most cities, in one way or another. Accurate reporting of targets and achievements in the EPWP is critical for the longevity of the programme. Another key observation is that the allocation of the budgets and timeframes of the EPWP have both been raised as potential hindrances to the overall, longer-term sustainability of the programme. In terms of opportunities, cities have noted that the provision of support from the National Government could assist them to become more resilient. A final (yet extremely critical) key learning is that cities must focus more specifically on an exit strategy for EPWP participants.

Moving into the 2020/21 period, it is expected that cities will continue to face similar challenges. Therefore, the analysis provided in this 2019/20 Annual Report is particularly useful in framing the way forward.

This report is one of three recent Expanded Public Works Programme resources developed by the South African Cities Network and the Department of Public Works and Infrastructure in 2021. See also An in-depth analysis of selected EPWP Projects and cases studies through EPWP Phases and A how-to guide of running effective Expanded Public Works Programmes (a major goal for the study). Other EPWP resources are available on the SACN's website.