The Urban Renewal Programme as an Area-Based Approach to Renew Townships
The Experience from Khayelitsha's Central Business District, Cape Town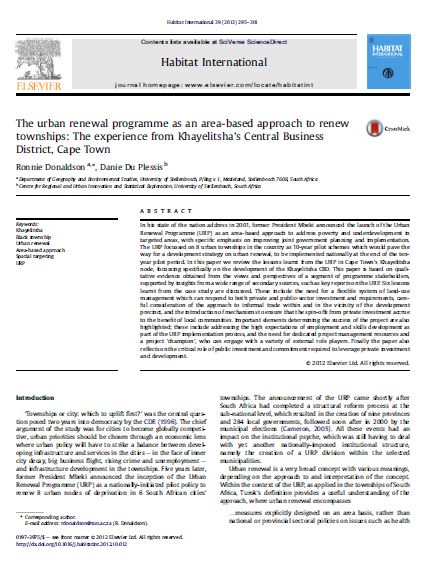 In his state of the nation address in 2001, former President Mbeki announced the launch of the Urban Renewal Programme (URP) as an area-based approach to address poverty and underdevelopment in targeted areas, with specific emphasis on improving joint government planning and implementation. The URP focussed on 8 urban townships in the country as 10-year pilot schemes which would pave the way for a development strategy on urban renewal, to be implemented nationally at the end of the ten year pilot period. In this paper we review the lessons learnt from the URP in Cape Town's Khayelitsha node, focussing specifically on the development of the Khayelitsha CBD.
This paper is based on qualitative evidence obtained from the views and perspectives of a segment of programme stakeholders, supported by insights from a wide range of secondary sources, such as key reports on the URP. Six lessons learnt from the case study are discussed. These include the need for a flexible system of land-use management which can respond to both private and public-sector investment and requirements, careful consideration of the approach to informal trade within and in the vicinity of the development precinct, and the introduction of mechanisms to ensure that the spin-offs from private investment accrue to the benefit of local communities.
Important elements determining the success of the project are also highlighted; these include addressing the high expectations of employment and skills development as part of the URP implementation process, and the need for dedicated project management resources and a project 'champion', who can engage with a variety of external role players. Finally, the paper also reflects on the critical role of public investment and commitment required to leverage private investment and development.