Trialog - A Journal for Planning and Building in a Global Context #142
Decentralized water management in rapidly growing cities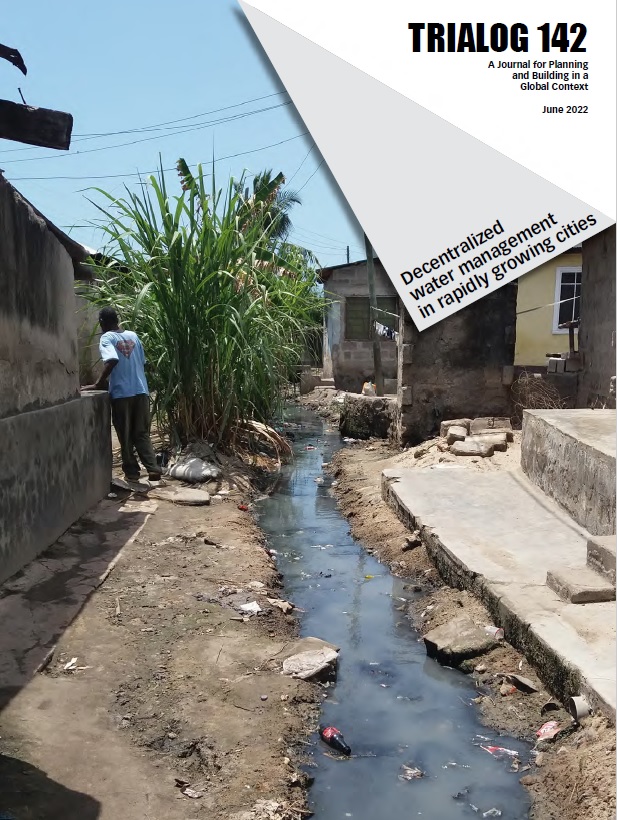 01 June 2022
Ajith Edathoot, Mahmoud Moursy, Tim Fettback, Wolfgang Dickhaut
English
Journal article
Tanzania, South Africa, Singapore, Laos, Italy, Indonesia, Afghanistan
The number of people living in cities is projected to increase by 50% from 4 to 6 billion people between 2016 and 2045. Much of this growth is occurring in low-income and lower middle-income countries. In these rapidly growing cities of the Global South, pressure on water availability is increasing while a changing climate and inadequate infrastructure are posing significant challenges to their resilience. Observations and global climate models show robust increases in extreme daily precipitation over the past decades, while climate projections show continued intensification of this phenomenon. The increase of rainfall intensity and frequency will raise the risk of flash flooding. However, this will not necessarily lead to less droughts as climate change also leads to extended dry seasons and increased evapotranspiration causing insufficient water availability to sustain economic activities.
Currently available infrastructure will not be able to cope with the challenges of fast urbanization and climate change. Apart from flooding and water scarcity, rapid urbanization also contributes to an increasing sanitation crisis. Globally, 3.6 billion people live without access to safely managed sanitation and 44% of household wastewater is not safely treated. The interlinked challenges of urban land use change, increased water demand, pollution of water sources, changing precipitation patterns and increasing climate extremes draw attention to the need of a shift in urban water management and urban development that can contribute to healthy and resilient communities, and at the same time leverage benefits from synergies, such as treatment by-products or multiple usage of spaces. Within this TRIALOG Issue approaches that contribute to water-sensitive urban design (WSUD) and citywide inclusive sanitation (CWIS) are presented and discussed.
Abstract based on source.