2016 Integrated Urban Development Framework
A New Deal for South African Cities and Towns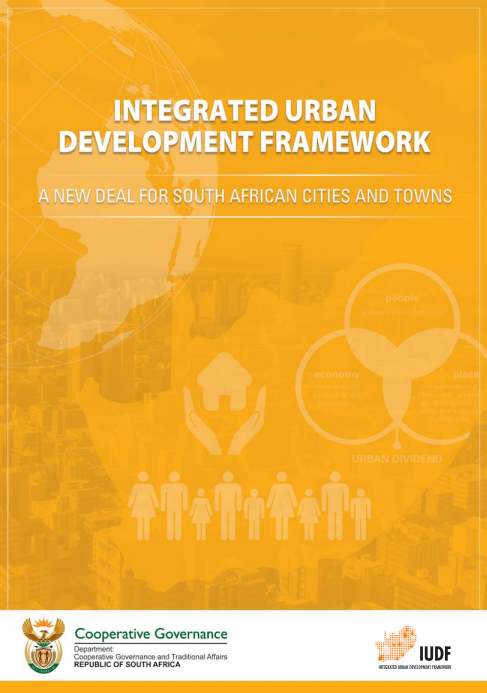 The Department of Cooperative Governance, working with various partners, released the Integrated Urban Development Framework (IUDF) as approved by Cabinet in April 2016. The IUDF is a policy framework suggesting how the South African urban system might be reorganised, so that SA cities and towns become more inclusive, resource efficient and good places to live, work, shop and play in, in line with the vision outlined in the National Development Plan.
The IUDF responds to the post-2015 Sustainable Development Goals (SDGs), in particular to Goal 11: Making cities and human settlements inclusive, safe, resilient and sustainable. It also builds on various chapters of the National Development Plan (NDP) and extends Chapter 8 'Transforming human settlements and the national space economy' and its vision for urban South Africa. According to IUDF, by 2030 South Africa should have observed a meaningful and measurable progress in reviving rural areas and in creating more functionally integrated, balanced and vibrant urban settlements.
For this to happen the country must:
Clarify and relentlessly pursue a national vision for spatial development;
Sharpen the instruments for achieving this vision; and
Build the required capabilities in the state and among citizens.
Abstract based on original source.