Catalytic Land Development Guideline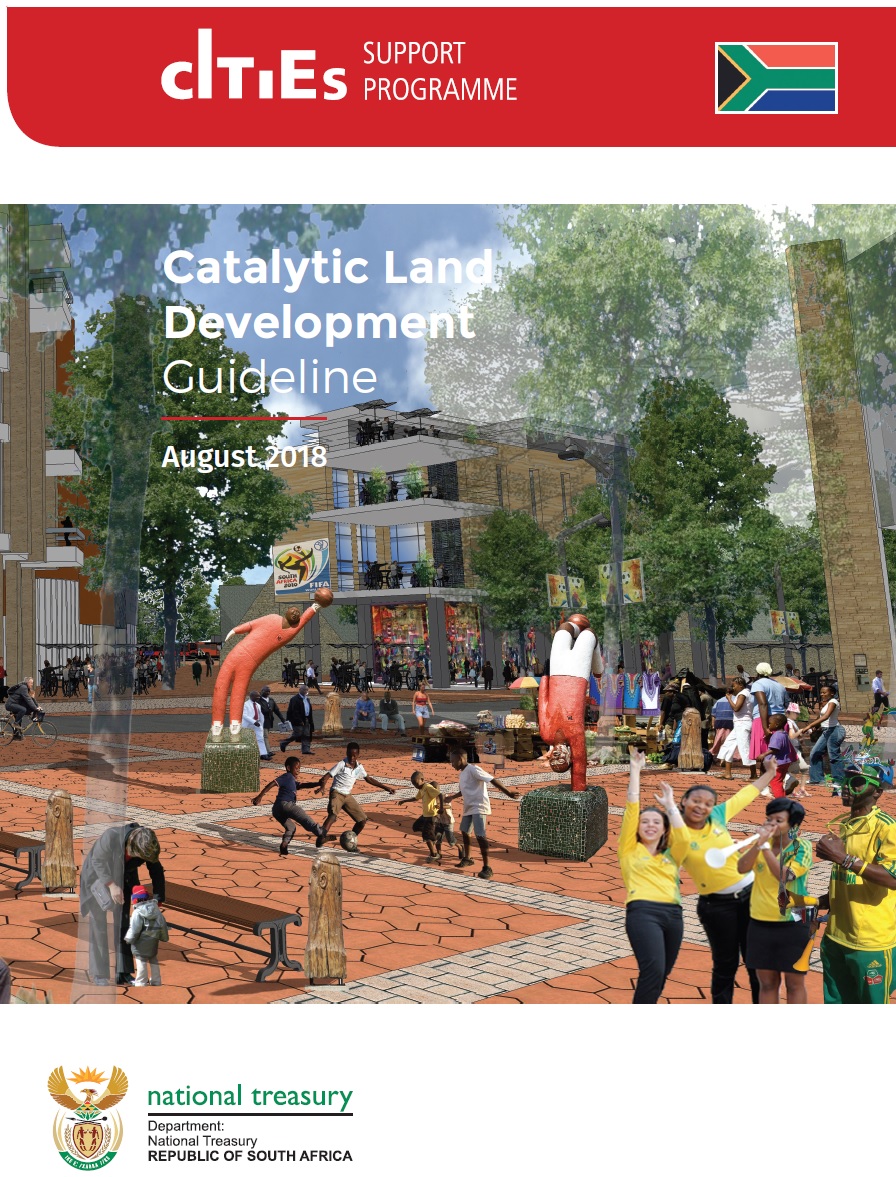 16 August 2018
Gill Cullinan
English
Guideline
South Africa
The underlying aim of the Cities Support Programme is to improve economic growth prospects in cities and to help municipalities respond to development challenges. The Integrated Urban Development Framework (IUDF, 2016) identifies several levers that metropolitan (metros) and larger municipalities can use to direct the spatial form, function and performance of their urban footprint. Catalytic Land Development can bring all these levers into play to achieve transformational impact in our cities if undertaken with rigour, discipline and integrity.
The main purpose of this Guideline is to guide metros and larger municipalities in undertaking the Catalytic Land Development (CLD) Programme Preparation Phase. This guidance is presented within the broader understanding of a three-phase CLD life cycle: Phase 1: Spatial planning and targeting Phase 2: CLD programme preparation Phase 3: Implementing projects within the catalytic programme. This Guideline aims to:
Highlight the importance of a disciplined and rigorous approach to programme preparation using the preparation stages to generate, capture value and fairly distribute benefit from land development. This must be done in accordance with the state's obligation to pursue well governed, inclusive, productive and sustainable cities.
Unpack the elements of CLD programme preparation to empower municipal officials tasked with managing a Catalytic Land Development Programme or a portfolio of CLDPs, so that they are able to tackle this complexity incrementally.
Provide municipal employees with tools for CLD preparation and direct them to further resources. The successful preparation of a CLDP will lead to the handing over of a series of projects for implementation. Some of these projects will be implemented by the private sector. The transactions associated with bringing the private sector on board are undertaken in the CLDP Preparation Phase. This is the subject of this Guideline. Municipal-managed infrastructure projects to be implemented by the municipality in the third phase of the CLDP life cycle are governed by the Standard for Infrastructure Procurement and Delivery Management as well as the Cities Infrastructure Delivery Management System.
Abstract based on source.