Rescuing SDG 11 for a resilient urban planet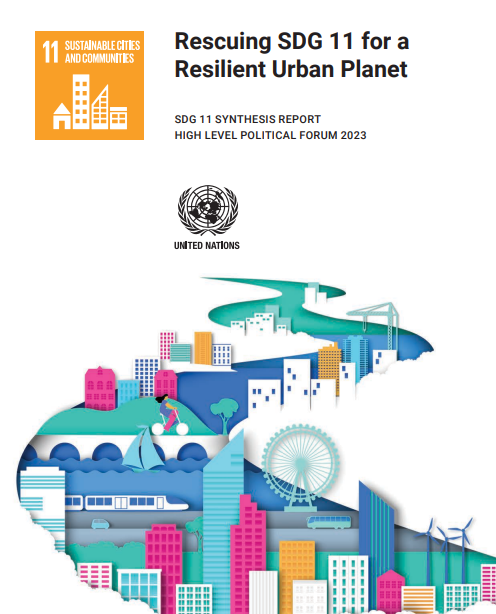 01 January 2023
UN-Habitat
English
Report
Global
The latest report indicates that progress toward achieving SDG 11 is falling short of the desired trajectory. It is imperative to expedite efforts to rescue SDG 11, bearing in mind the well-being of both current and future generations. This Rescuing SDG 11 for a resilient urban planet report highlights substantial opportunities on the horizon and underscores the ongoing innovations in motion. The well-being and prosperity of the majority of people worldwide are directly linked to the opportunities and challenges they encounter in their places of residence, particularly cities and human settlements. Consequently, the achievement of the 2030 agenda's goal to eradicate poverty, fulfill basic needs, and protect the environment will primarily unfold in today's urban environments. Encouragingly, urban areas offer extensive possibilities to advance the 2030 agenda, which can be harnessed effectively.
The progress made in some of the targets outlined in Sustainable Development Goal 11 (SDG 11), along with the innovative initiatives undertaken by governments and other stakeholders as outlined in this report, are also grounds for optimism and confirm that meaningful change is attainable. Indeed, rescuing SDG 11 is a feasible objective, but it necessitates transformative changes that transcend routine responses. Achieving this goal requires the development of fresh strategies, principles, and frameworks that fundamentally reshape the way urban policies and investments are conceived, executed, and funded.
Consequently, the report advocates for four pivotal transformative shifts:
Firstly, it emphasises the necessity of moving from mere aspiration to concrete action by translating the acknowledgment of sustainable urbanisation as a global priority into substantial investments and initiatives, built upon collaborative efforts at multiple levels and involving diverse stakeholders.
Secondly, it underscores the importance of including urban considerations in financing the Sustainable Development Goals (SDGs), especially through the SDG stimulus, given the pivotal role played by local and urban entities, along with the untapped financial resources within cities.
Thirdly, the urgent need to revamp cities and human settlements, supported by comprehensive data and the application of digital technology, is highlighted.
Abstract based directly on original source.