Social service delivery and planning under vertically divided authority in the City of Harare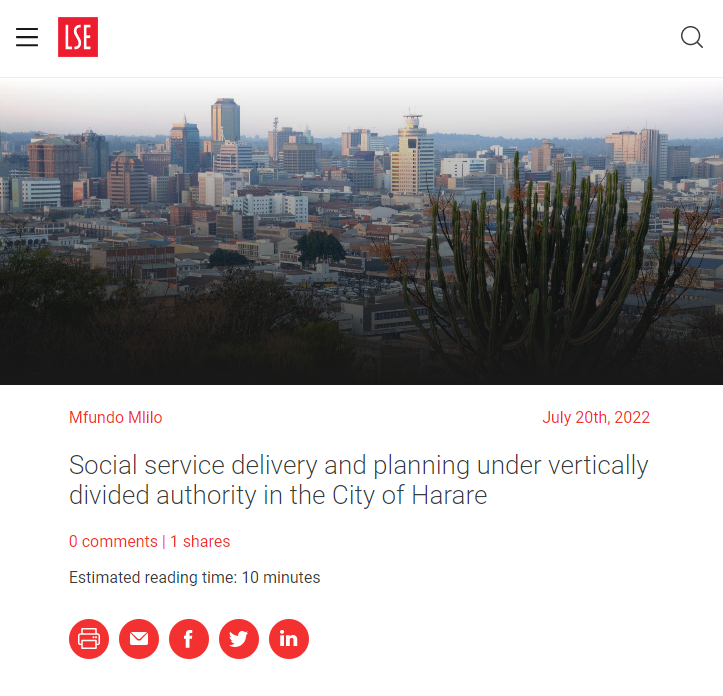 20 July 2022
Progressing Planning (LSE)
English
Blog
Zimbabwe
This blog states that the service delivery and governance context in Harare is complex on account of the failure of the ruling party and the opposition to coexist and cooperate for the purposes of urban development. While the city has seen massive urbanisation driven by rural to urban migration since Zimbabwe gained independence from Britain in 1980, this rapid population growth has placed huge demands on the city regarding delivering quality social services and critical infrastructure.

A recent study by the African Cities Research Consortium (ACRC) held that the City of Harare has not had an overarching vision / spatial transformation programme since the 1993 Harare master plan. This has huge implications for planning and the delivery of quality social services in the absence of "big ideas" driving urban development. Harare's lack of a vision increases the risk of the city collapsing under the weight of the challenges it faces, and its lack of a radar and place in the broader regional and international development agenda. While the problems in Harare look technical, they are deeply embedded in the political settlement driving development in Zimbabwe, setting the stage for contested urban development.

Find the blog here.
Abstract based on original resource.