Uganda
Housing Investment Chronicles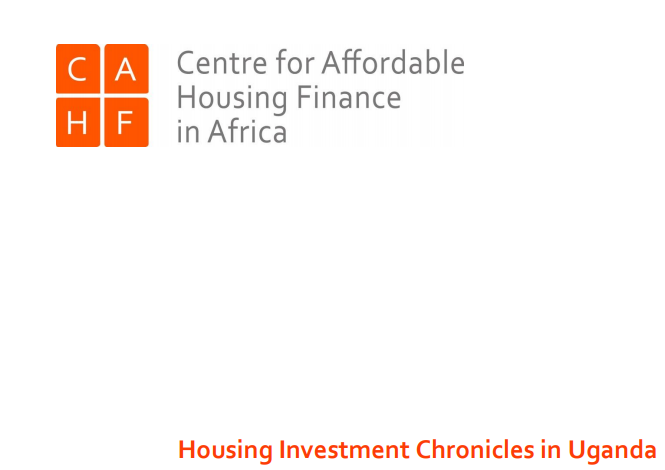 While national income averages are widely used to measure affordability, they offer a limited reflection of households' ability to invest in housing in reality. This is because traditional methods of calculating average incomes often exclude informal and non-declarable income sources. In an African context where majority of non-agricultural labour exists in the informal sector, there is need to urgently redress the ways in which we quantify (housing) affordability. Using formal income levels, only 4.4 percent of Uganda's urban population have the purchasing power to afford the cheapest newly built house valued at US$ 20 000 (UGX 76 million).
In 2010, however, there were an estimated 2.1 million people working in the informal sector in Uganda. This represented 59 percent of non-agriculture employment in the country and embodies a large percentage of the population with non-declarable income. Incomes in the informal sector are hard, if not impossible to calculate effectively, and this leads to information asymmetries in how affordability is calculated and understood. There are also major data gaps in the way households earn, save and spend their incomes. This is primarily due to low levels of financial inclusion in terms of access to banking services. In 2014, only 17 percent of Ugandans aged 15 or older had access to a formal savings account, 16 percent had access to formal borrowing, and 44 percent had a bank account. A significant percentage of Ugandan households therefore draw on informal financial instruments to manage their money and invest in housing.
Acknowledging a need to better understand how low and middle income households' invest in housing, CAHF partnered with Financial Sector Deepening Uganda (FSDU) and the Shelter and Human Settlements Alternatives : Ugandan Human Settlements Network (SSA: UHSNET) to conduct a qualitative study on housing investment journeys of low and middle income households in Uganda's largest metropolitan area, the Greater Kampala Metropolitan Area (GKMA). The study sought to explore ways in which low and middle income households earn, save, and invest in housing. The study explores some of the key issues that underpin the housing investment decision-making processes of low and middle income households in the GKMA. It is anticipated that by building a better understanding of these journeys, CAHF and our partners can facilitate the development and down-market penetration of housing finance instruments.
The study was carried out in March and April 2018 with a 680-household survey conducted across the breadth of the GKMA, which was supplemented by focus group discussions with members from various housing cooperative unions and key players in the housing and financial sectors. Finally, detailed housing investment journeys were recorded with 20 low and middle income households. These cumulatively offer valuable insights into the strategies employed by households to generate the necessary financial resources to meet their housing needs.
The study reflects the commitment of respondents to realising their housing aspirations, and their intuition that the value of the land lies not only in shelter, but in the house as a financial and economic asset. The Chronicles give a voice to people who are not often heard and an opportunity to express their wishes to the authorities and others about this important area of their lives.
Some of the key recommendations emerging from this research include: the need for the State to synchronize policies to ease formal systems of land access; the development of relevant and accessible financing systems to facilitate the development of housing. Additionally, there is need to reduce bureaucratic inefficiencies in the formal land delivery processes, and to smooth land registration, exchange, transfer and acquisition. In the case of housing, there is a need for collation and consolidation of data and information on housing finance to avail this knowledge to households.