Potholes
Technical guide to their causes, identification and repair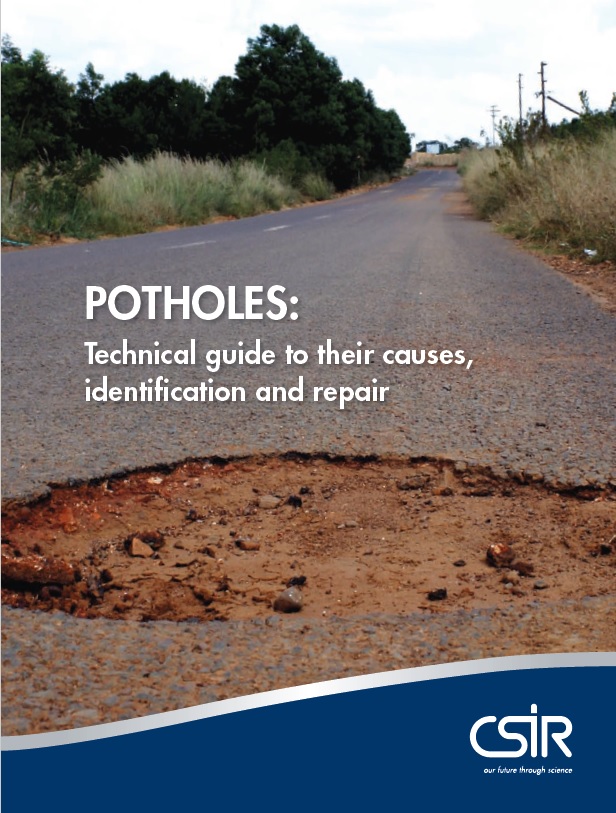 Over the past few years, the development of potholes in South African roads has accelerated considerably, leading to serious concerns and wide media coverage. The increase in pothole damage can be attributed primarily to reduced preventative maintenance being applied to many roads, combined with particularly wet periods during rainy seasons and rapidly increasing numbers of heavy vehicles.
This guide describes the causes of typical potholes and uses a decision key system to identify the appropriate repair methods. Various methods are described to ensure that repair work is appropriate for the specific type of pothole and that the pothole will not form repeatedly due to failure to address the cause.
The guide together with the recently launched PotholeFixGP mobile application (app) when utilised, will hopefully result in the formation of fewer potholes and more effective corrective actions. The development of the tool was a collaboration between the Gauteng Department of Roads and Transport (GDRT) and the Council for Scientific and Industrial Research (CSIR). It signals a commitment to the digitalisation of the transport sector as it facilitates enhanced accountability by the GDRT and other roads authorities in the province.
The app is easy to use – the user can provide the exact location of a pothole by using the phone's Global Positioning System functionality or by dropping a geo-location pin on a map. In addition to providing the location of the pothole, the user can also provide information on the estimated size of the pothole and a corresponding photograph of the pothole. The app has a public dashboard where users can view reported potholes and their repair status. To track a reported pothole, a user captures the reference number initially received when they reported the pothole on the app. PotholeFixGP provides a status update of the pothole, from "to assigned" and eventually "to completed" for the department and the user who reported the issue.
Abstract based on source.