The changing nature of mining towns
Reflections from Australia, Canada and South Africa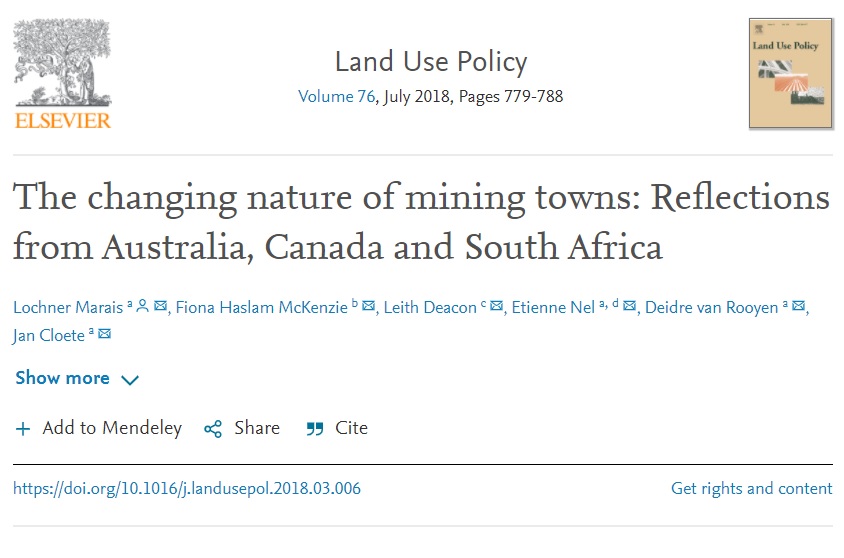 Mining companies worldwide have been prime movers in the creation of mining towns. Though these towns are of many kinds, all over the world they are going through a similar process of "normalisation" – freeing themselves from their mother companies. This paper compares the way mining towns in three countries, Australia, Canada and South Africa, have been shaped by changes in production processes and changes in company and government policies. It examines how the local communities are involved and how they respond to the requirements of "open" towns. The difficulties that mining towns experience in dealing with both boom and bust cycles are also noted.
Non-permanent settlement in mining towns has become the dominant trend in Australia and Canada, but South African policy, embedded in a history of migrant labour, promotes permanent settlement. The analysis brings to light the complexity of the factors that have influenced mining towns, including globalisation, corporate decision making, political ideology and government policy for state welfare and citizens' rights. It underlines the need for a more nuanced understanding of the places and the communities that mining creates and what their future holds and concludes with a series of recommendations for communities and authorities dealing with change.

This resource is part of the Mining Towns Collection kindly sponsored by the Municipal Capability and Partnership Programme. Abstract based on source.